Bring the Colour to Radiotherapy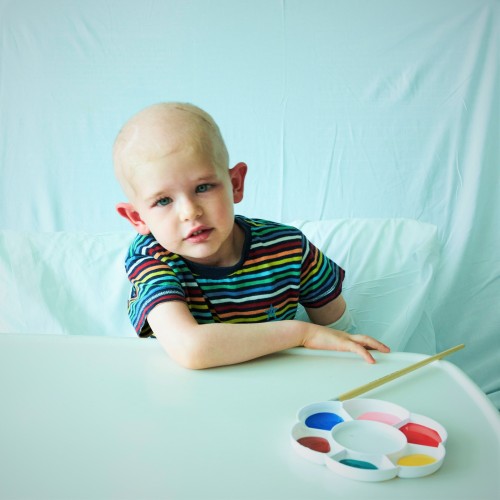 Our Radiotherapy team use the latest technology and equipment to provide exceptional care for around 2,000 patients every year, but improvements to the waiting and treatment areas are desperately needed.
Patients who have received a diagnosis requiring radiotherapy spend a considerable amount of time in the department, attending multiple appointments just in preparation for the process. They receive daily radiotherapy for up to six weeks, with regular follow-up visits for several years. When surveyed, patients described the space as "bleak" and that they would like a "less clinical environment", echoed by department managers, nurses, radiographers and doctors.
Patients, their families and carers should have access to calming, well equipped spaces during treatment. We know that environment has a significant impact on mood, and that a more calming environment can reduce stress and anxiety, allowing the clinical team to better engage with patients, and ultimately improving treatment outcomes.
We are raising money to make substantial improvements to our Radiotherapy department, to create a warm and welcoming space which helps patients feel more at ease. The Cancer Fund have worked together with the radiotherapy team to plan renovations, including:
Updating the initial waiting area by installing:
Engaging artwork that brings a sense of nature and natural light to the area
A children's play area
Wi-Fi connections so patients and carers can contact loved ones
Better, clearer signage
Installing ambient lighting and projections in the CT Scanner Room
Patients will be able to personalise the projection systems, to create a calmer, more relaxing atmosphere. The system has been proven to reduce anxiety and pain in patients of all ages, and provide distraction during complex procedures and preparation, even reducing the need for pain medication.
Opening up the internal space in the radiotherapy 'Mould Room'
Carers will be able to support patients through the process of having radiotherapy masks built and fitted. With more space to work with, we can add another projection system.
Revitalising the long corridors
By incorporating natural designs and more colour, the corridors will seem less gloomy and clinical.
Refitting and enhancing the children's areas in radiotherapy
Updating the Children's Playroom with better storage to house more equipment safely, purchasing new infection-resistant toys and setting up access to online and streaming entertainment such as Netflix and Spotify.
Making the Children's Isolation Rooms a better space for young patients during their treatment, with TVs, online entertainment, and comfortable seating.
To donate to our Bring the Colour to Radiotherapy appeal, and help make these changes a reality, please click the button below:
In order to support this appeal, please include 'Bring the Colour to Radiotherapy' in the comments section when donating.